Jump Safely for Life
February 2019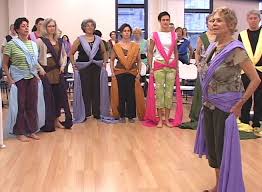 Would you like to build strong bones for life? Jumping may be the key!
Jumping for six minutes the week can give you stronger bones is the title of recent article in The Daily Mail in the UK, by Victoria Allen Science Correspondent.
Dr. Gallin Montgomery, from Manchester Metropolitan University says "older women maybe maybe able to reduce the risk of osteoporosis with six minutes of simple jumping exercises every week."
There is one problem with jumping. If your spine is out of alignment you can do more harm than good. Ruthy Alon, a Feldenkrais Trainer, recognised this problem and developed her own program called Bones For Life to teach women how to align their spine first and give external support with a wrap to jump safely.
Here is a little mini-jumping practice called bouncing on the heels, to improve the circulation in and legs and to stimulate bone growth. You can do this in sitting or in standing.
Lift your heels slightly and lower them with a light bounce. Repeat to your heart beat-double bounce many times. Speak or sing pum-pum, pum-pum. Pause briefly after two bounces. Find your own rhythm. Bounce with twenty percent pressure. Feel the resonance in your body and voice. Emphasise tapping down. Stand. Observe weight in your feet.
Would you like to learn how the Bones For Life program can help you strengthen your bones?
Join me at the Relaxation Centre in Alderley, on Sunday 10th March, from 9.30am till 12.30pm for a Bones for Life workshop--restore the spring in your step.
'This is a program to develop suppleness and vitality, stimulate bone strength and improve posture, balance and walking. It can also assist those recovering from skeletal injuries and/or loss of a bone density. Those that are chronic pain report increased flexibility and strength. It can also bring is to those who perform repetitive movements at work or sit for long hours without much movement.'
Cost of the workshop is $35. You can book at the Relaxation Centre of Qld. on 07 3856 3733.
I look forward to seeing you there to help you jump safely for life.
#strongbones #Feldenkrais #BonesForLife #RuthyAlon #jumping #RelaxationCentreofQld #walking #spinalalignment